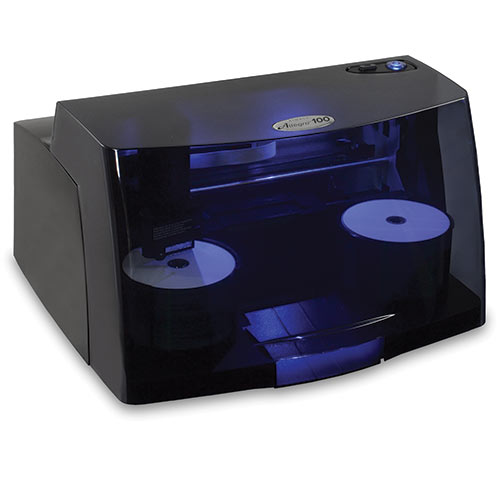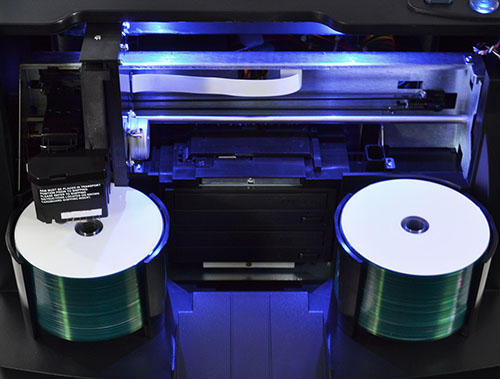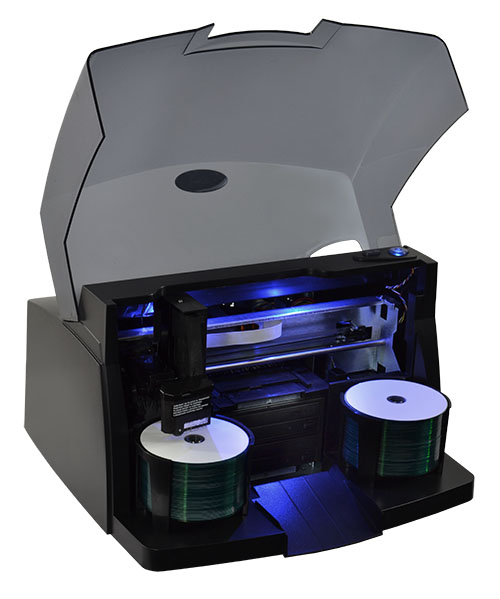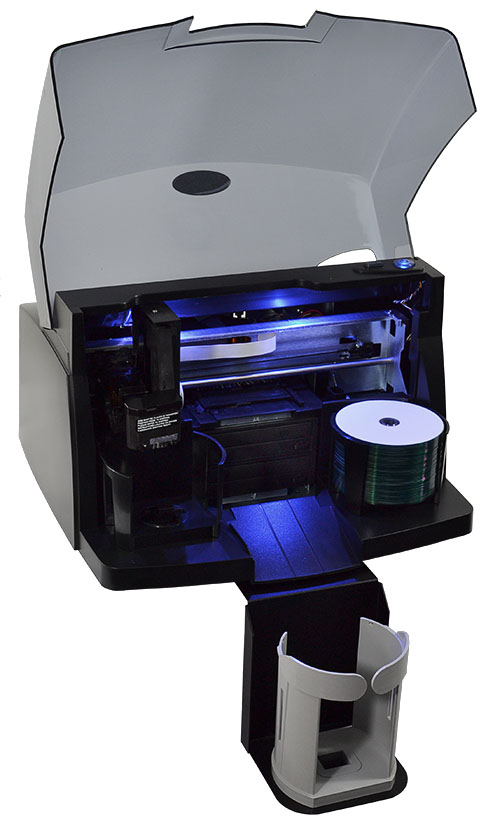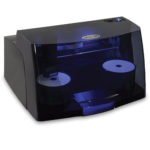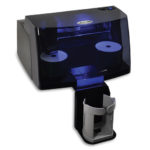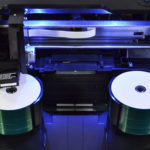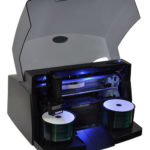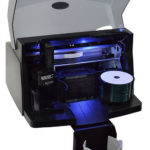 Description
Additional information
Specifications
Software
Service
Media and Ink
Description
Rimage Allegro disc publishing systems are an affordable front-office solution ideal for low or moderate volume disc production. Publish discs with full-color labels using the newest generation of high-speed, high-quality inkjet printing, for professional results each and every time. Available as the Allegro 20 or Allegro 100 model, Allegro comes complete with industry-leading Rimage software in a cost-effective package.
Packed with power, yet simple to use — affordable desktop delivery
Right Size
Choose the Allegro system that best matches your needs. Allegro 20 – a cost-effective option for the smallest office or clinics – has one recorder, and one bin that holds up to 20 discs. Allegro 100, ideal for larger clinics or facilities, has two recorders, and two bins that hold up to 100 total discs. CD/DVD recorders are standard on both models, with optional Blu-ray™ recorder upgrades.
High Speed
Power through projects quickly while getting full-surface, full-color printing in as little as six seconds: the Allegro's high-speed robotics are designed to maximize production.
Patient CD Distribution, DICOM Integrated CD/DVD and CD/DVD import functionality
Allegro medical systems are a perfect fit for healthcare facilities or offices, supporting DICOM integrated CD/DVD workflows with cost-effective, high-quality performance. Allegro medical systems integrate easily into your RIS and HIS medical solutions, thanks to the powerful integration tools within Rimage Software.
Current Rimage DICOM integrations can get started with an Allegro system right away, for a low-cost option for medical facilities.
Rimage Software Suite offers the strongest, most fully-featured Application Program Interface (API) on the market, with tools that help optimize your healthcare medical workflows. With the unique ability to import – as well as publish – DICOM CD/DVD, Allegro medical systems a perfect fit for clinics or facilities that receive as well as distribute data. Grant any network user easy access to your Allegro medical system, or permit secure remote access via the internet, so your Allegro system can easily serve all your DICOM demands – from DICOM archiving to distribution – no matter where staff is performing medical care.
While Allegro systems serve the needs of many diverse markets, Allegro 20 and Allegro 100 are perfect for DICOM integrated CD/DVD disc publishing in the medical market.
Additional information
| | |
| --- | --- |
| Weight | 33 lbs |
| Dimensions | 21 × 21 × 18 in |
Allegro 20
Allegro 100
Number of Recorders
1
2
Carousel / Total Capacity
1 bin / 20 discs
2 bins / 100 discs
Printer
4800 dpi inkjet
USB Connectivity
USB 3.0 required
Height
7 in / 17.8 cm
11 in / 27.9 cm
Width
15 in / 38.1 cm
17.8 in / 45.2 cm
Depth*
  14.75 in / 37.5 cm
17.5 in / 44.5 cm
Weight
  17 lb / 7.7 kg
26 lb / 11.8 kg
Power Specifications
100-240 VAC, 60/50 Hz, 5 AMP, 60 Watts
*Allow space (3.5" or 9 cm) in rear of machine for cabling.
Every Rimage Allegro disc publishing system includes the Rimage Software Suite (RSS), a complete set of software unlocking the full potential of the Rimage system. The suite includes tools to submit and manage print and record jobs, create unique artwork for each disc, monitor and control system operation of one or a number of Rimage systems, and integrate into workflows to fully automate disc publishing.
RIMAGE SOFTWARE SUITE CONTAINS:
CD Designer™ provides users the ability to create, import, and customize graphics to be printed on your disc surface.
QuickDisc™ allows users to assemble and submit projects to their Rimage system.
Rimage System Manager allows users to fully control and monitor all Rimage systems from any location on the network. View the status of jobs, configure bins and get accurate available media counts to keep production flowing.
Rimage Services includes Production Server to control the hardware and manage all aspects of printing and recording, Image Server to create a wide range of disc formats with options such as image encryption with password protection, and other Rimage services that enable the functionality of client software tools.
For maximum flexibility, RSS also includes web clients for Windows® and Mac OS® that provide the same capability, but without the need to install any software:
WebQD™ extends primary functionality of QuickDisc to any computer with network access to the Rimage system and a web browser.
WebRSM™ extends the functionality of Rimage System Manager to any computer with network access to the Rimage system and a web browser.
Available upon request at no charge to Rimage disc publishing users simply by contacting Rimage Support:
Software Developer Kit (SDK) includes the APIs (Application Programming Interface) and information needed to integrate the Rimage with other software and automate the Rimage system in custom workflows.
Rimage Service and Support is the industry leader in delivering high-quality world-wide service with superior response times that maximize your return on investment. Rimage Service and Support offerings are designed to meet the level of service you need.
FOR ALLEGRO, RIMAGE SERVICE AND SUPPORT OPTIONS ARE:
Rapid Exchange gives you speed and value with next business day advanced delivery of a replacement unit or printer for you to install. Includes Software Subscription and Support.
Virtual Installation is a private remote installation and training session, typically 1 to 1-1/2 hours depending on customer requirements.
With Rimage, you can be assured of quality world-wide service, immediate response times, and unrivaled high-value maintenance agreements. When you choose Rimage, you choose success.
RIMAGE MEDIA
Rimage printable CD/DVD/BD inkjet media is engineered to achieve an exceptional, professional look, helping you treat every project like it's your most important one. Whether you purchase single layer CD or DVD, single or dual layer Blu-ray, silver or white discs, Rimage media is sourced to exact specifications. Discs are taken through rigorous quality assurance processes and manufactured to the tolerances required for Rimage robotic and printing systems.
Rimage media is designed to work together with Rimage ribbons and all-in-one ink cartridges for extraordinary print quality and data integrity, and is matched precisely to your system's specifications for faster write speeds and error-free operation.
With an integrated inkjet printer, Allegro systems require optical media designed for inkjet printing on the disc label surface. Rimage media for inkjet printing is available in CD or DVD formats.
ALLEGRO ALL-IN-ONE INK CARTRIDGE
Exclusive to the Allegro systems, the All-in-One Ink Cartridge is reliable and convenient to use. Get amazing color and print quality in a cost-effective package with the Allegro 20 or Allegro 100.
INKJET CARTRIDGE FEATURES
No pooling, smudging or over saturation
Faster drying times
Reduced dot gain for better image detail
Beautiful color resolution
Only Rimage media is approved and guaranteed.