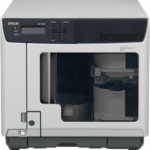 Discproducer PP-100N Network Edition
$7,416.00
Built with Epson's advanced robotics and printing technologies, this compact, professional disc publisher has all the features you need to get the job done.
Description
Additional information
Description
Discproducer Network Model
The Network model supports shared access between multiple users with Ethernet connectivity. In addition, it features an LCD display for publisher status and error reporting, an embedded processor to expedite and speed up publishing jobs, an embedded hard drive for storing publishing jobs and a door lock to restrict access.
The right choice for professional CD/DVD on-demand publishing
The desktop CD/DVD disc publisher you can rely on is here, Discproducer from Epson. Built with Epson's advanced robotics and printing technologies, this compact, professional disc publisher has all the features you need to get the job done. It is designed to burn and print up to 100 customized CDs or DVDs on demand. And, with one set of high-capacity ink cartridges, you can create over 1,000 discs.
Discproducer also features a built-in 6-color inkjet printer, with Epson's MicroPiezo® technology, that delivers the highest print quality available for crisp, clear text and vibrant graphics. And our Total Disc Maker software lets you format data, edit labels and control the production process all in one easy-to-use application. Best of all, Discproducer comes with the quality, reliability and service that Epson is known for.
Discproducer comes with everything you need to get started. See "What's in the Box" below as well as all the specifications including system requirements.
What's in the Box?
Epson Discproducer disc publisher
One set of six Epson high capacity ink cartridges
One package of five Taiyo Yuden WaterShield CDs
CD-ROM containing application software, printer driver and User's Guide
Set-up Guide
USB cable
AC power cord
Market Solutions
The Epson desktop disc publisher is the ideal solution for a wide range of applications. Whether you need one CD/DVD or 100, you'll find it delivers reliable data burning and photo-realistic printing quickly, efficiently and economically. Listed are just some of the markets that will benefit from using Epson's on-demand disc publishing solutions.
Service Bureaus

The Epson Discproducer is the perfect tool for maximizing margins in the rapidly growing media production market. Whether you use it for an individual disc or a batch job, its high reliability, superb print quality and cost-effectiveness makes it the ideal system for service providers.

Education

As the importance of multimedia educational content increases, in both schools and universities, the need for fast and cost-effective CD/DVD duplication also increases. With its ease of use and the ability to publish up to 30 discs per hour, Epson Discproducer meets the growing demands of the educational sector.

Videography / Photography

CDs and DVDs play a dual role for the videography and photography markets. Not only are they an efficient means of delivering digital content to customers, but creative labeling can make them a powerful marketing tool as well. The Epson Discproducer uses 6-color MicroPiezo® inkjet printing to print high quality, high impact graphics and text on all your CDs and DVDs.

Medical

The trend from analog X-ray or CT film to digital imaging offers new possibilities for cutting process costs and improving patient services. In areas such as radiology, cardiology, ultrasound and CT imaging, the medical community can quickly and easily provide other professionals CDs/DVDs of medical test results and images with Epson Discproducer.
Technology
Epson is known worldwide for its advanced technology and the high reliability of its products including the quality of its robotics and printers. The Discproducer is no exception. Its compact design, dust-resistant body, minimum number of moving parts, outstanding print quality and patented AcuGrip™ technology, delivers superb reliability and output.
Software
Discproducer comes with all the software you need to get the job done. Discproducer's easy-to-use Total Disc Maker Software includes disc editing, label editing and publishing functions. Simply select your data, design the label, configure the run, click "Publish" and you are done. Best of all, you don't have to be an expert to use the software. All it takes is three easy steps.
1. Select Data

Epson's Disc Editing Software is easy to use. Simply select the media format, then drag, drop, and burn.

2. Design the Label

Use your own design or start with one of the many pre-defined templates and images provided. Then use the label editing tools to customize the label to your satisfaction. The preview display allows you to check your composition and save your work for easy retrieval in the future.

3. Configure Production

There are just a few steps before you're ready to publish. Epson's software leads you through the process, helping you to set the parameters such as the number of CDs and DVDs to be burned, the burning and print speed, the input/output trays for discs and print resolution. Then simply click "Publish" and your production run is underway.

4. Monitor Production

Epson's Total Disc Monitor Software keeps you informed about the status of all the important functions of the Discproducer as well as any current and pending jobs.
Epson Limited Warranty
What Is Covered

Epson America, Inc. ("Epson") warrants to the original end-user purchaser that the Epson product covered by this limited warranty statement, if purchased and operated only in the United States or Canada, will be free from defects in workmanship and materials for a period of one (1) year from the date of original purchase. For warranty service, you must provide proof of the date of original purchase.

Technical Support

Epson Discproducer Technical Support can be obtained by calling 562-276-1360, between the hours of 7am to 5pm, M-F, PST. Technical Support hours are subject to change.
Additional information
| | |
| --- | --- |
| Weight | 66 lbs |
| Dimensions | 28 × 24 × 20.5 in |