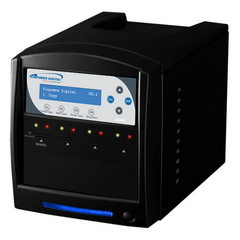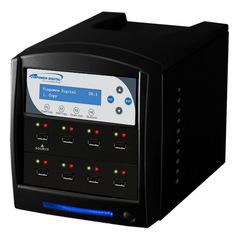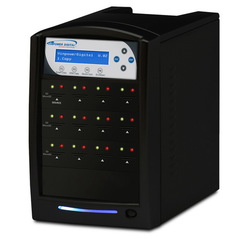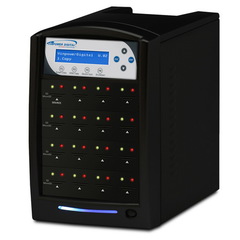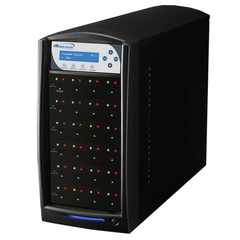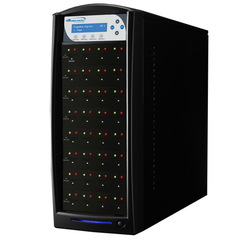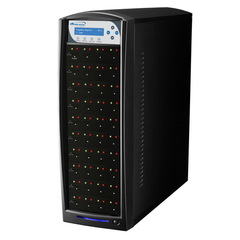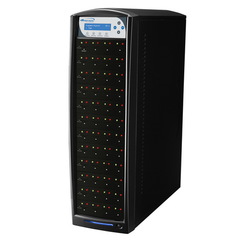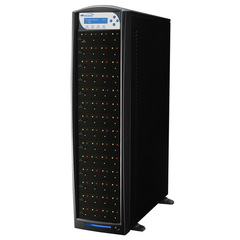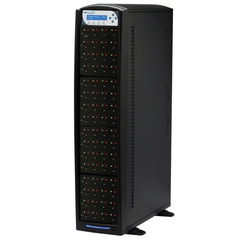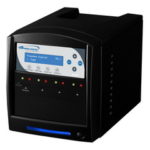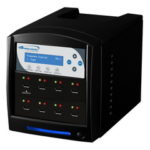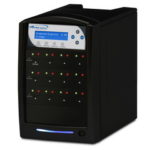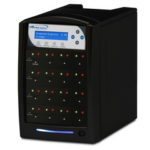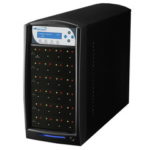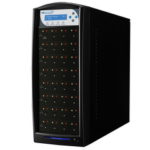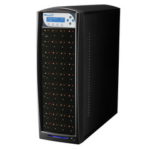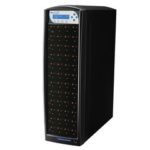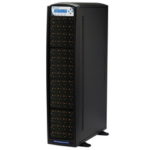 SDShark SD & MicroSD Duplicator
Description
Features
Specifications
Copy Protection
Model No.
Description
Digital content is the driving force of content delivery in business and even consumer applications and is growing by leaps and bounds. One of the fastest growing methods for distributing content is through flash memory which is most commonly recognized as USB pen drives or SD/Compact Flash cards. Flash memory devices are used in a multitude of components including computers, smart phones, portable gaming devices, and other useful hardware applications. With so many devices able to use and specifically geared toward this form of digital media, content providers large and small will need a way to make quick reliable copies. This is why Vinpower Digital has developed a line of flash copiers like the SDShark duplicator which is capable of copying both standard SD and microSD cards without requiring an adapter.
Vinpower Digital is a leader in digital duplication equipment, providing high quality low cost equipment for all forms of digital transference devices. Through our staff of expert engineers, highly trained assembly personnel, and helpful customer service, we're committed to meeting the most stringent quality control in the business, our own! At Vinpower Digital, just good enough is not good enough for us.
Key Features:
Complete Standalone Operation:


No PC required to operate the duplicator.

Asynchronous Duplication:


Able to copy any size master data onto multiple sources asynchronously (independently) without sacrificing duplication speed or quality for faster and more reliable duplication.

Smart copy feature:


This feature is used to quickly copy all accessible content contained on the SD/microSD device.

Supports all data Formats with bit by bit duplication
Supports most currently available SD/microSD drive: 


Supports most currently available SD/microSD drive in the market

Future functions upgradeable through firmware:


Duplicator is able to be upgraded by future firmware updates.

Secure Erase:


Fully erase the SD/microSD device without the data being recovered.

Multi-Language capability:


The text on the LCD screen can be displayed in English, Spanish, French, Japanese & more. Chinese can be added upon request.
Additional Features:
Account management (password protection): 


This function will authorize only specific user(s) to operate the duplicator with their preferred settings. Able to assign numerous passwords for multiple users.

Auto-Counter Technology: 


Displays the total number of discs successfully copied compared to desired output for each project.

User friendly interface with 'easy-to-read' LCD display:


Offers easy to recognize and use terms and operations on the LCD display for simple usage.

Aluminum Case used to provide a highly functional and attractive exterior:


Duplicator casing available in midnight black aluminum casing.

Fast Key Support:


4 fast keys for faster operations.

Power on Self diagnostics:


Keeps the duplicator functioning optimally.

Device Info feature: 


Provides the detail information of the SD/microSD device.

SD/microSD Prescan feature:


Able to scan the source SD/microSD device for physcial reading error.

Continuous copying without waiting for cool down:


No need to stop the duplicator for fear of overheating.
Model
SDShark™ SD & MicroSD Duplicator
Operating Type
Stand-alone
Target
3, 7, 11, 15, 23, 31, 39, 47, 55, 63
Buffer Memory
128MB for every 8 ports
Account Management
32 users (Standard License) or 64 users (Premium License)
Asynchronous Duplication
Smart Copy
Yes
Auto Counter
Yes
File System Supported
HFS+, HFSX, FAT, exFAT, NTFS, ext2/3/4
Max SD/microSD Size Supported
Language Support
English, Spanish, French, Japanese & more. Chinese can be added upon request.
Display
20 x 2 Blue LCD
Status LED
Green/Red LED on each port
Color
Black
Maximum Read Speed
33 MB/Sec≈2GB/Min
Maximum Write Speed
31 MB/Sec≈2GB/Min
Flash Device Supported
Most currently available SD, SDHC, microSD, microSDHC Card
Firmware Upgradeable
Yes
Power Supply
Input : 90 ~ 240 V AC
Operating Humidity
20% ~ 80%
Temperature Extremes
40°C (104°F) / 5°C (41°F)
Regulations
FCC, CE, RoHS, UL
Manufacture
Vinpower Digital
Throughput Capacity Per Hour:
| | | | | | | | | | | |
| --- | --- | --- | --- | --- | --- | --- | --- | --- | --- | --- |
| Target | 3 | 7 | 11 | 15 | 23 | 31 | 39 | 47 | 55 | 63 |
|  SD & microSD size: 512MB* | 420 | 980 | 1540 | 2100 | 3220 | 4340 | 5460 | 6580 | 7700 | 8820 |
|  SD & microSD size: 1 GB* | 210 | 490 | 770 | 1050 | 1610 | 2170 | 2730 | 3290 | 3850 | 4410 |
|  SD & microSD size: 2 GB* | 105 | 245 | 385 | 525 | 805 | 1085 | 1365 | 1645 | 1925 | 2205 |
|  SD & microSD size: 4 GB* | 51 | 119 | 187 | 255 | 391 | 527 | 663 | 799 | 935 | 1071 |
Important Notice
The actual reading/writing speed may vary depends on actual SD/microSD device.
Vinpower Digital has developed the first true standalone duplicator which can offer embedded copy protection. The unique Copy Protection Software (CPS) can embed a proprietary copy protection encryption into any DVD video master through a PC which can then be transferred onto the Vinpower Digital duplicator to produce as many copy protected reproductions as the user needs. Since CPS is software based as apposed to hardware based, there are no issues with compatibility with players like similar models on the market. In addition, CPS protects against both duplication and ripping for a double dose of protection whereas similar applications from competitors cannot block ripping.
In today's savvy hi-tech world, consumers are often purchasing a single video and making copies for their friends which limit the overall sales. If you worked hard and put in a lot of effort and expense into creating your video project, you shouldn't be restricted in the number of units you can sell because you can't afford the high price of replicated copy protection. Instead by using Vinpower Digital's CPS, you can feel secure at a fraction of the expense and time with no minimum or maximum quantities required.
How Copy Protection Works:
1. Load the supplied CPS software onto a suitable PC.
2. Plug in the CPS USB dongle with activated licenses into your PC's USB socket.
3. Take your DVD video master disc or file and by utilizing the special CPS application, follow the steps to embed the copy protection onto the master content.
4. Transfer the new copy protected master content from the PC onto an enabled duplicator via USB/Copy Connect or LAN/Network connectivity
5. Load blank DVD recordable discs into the duplicator's writer drive(s) then locate the transferred file through the duplicator's menu keys from the internal hard drive
6. Initiate the copy process and when the finished discs all successfully copy, these discs will have the copy protection already embedded.
System Requirements:
Windows® 7 (32 Bit, 64 Bit),
Windows Vista® (32 Bit, 64 Bit),
Windows XP (32 Bit, 64 Bit)
Minimum System Requirement for PC
CPU: Pentium 4, 2.4GHz; RAM: 512MB; 1 x Hi-Speed USB 2.0 Port
Administrator User Privilege for above Operation Systems
Target
MPN
Actual Size
Single Packing
Double Packing
3
SDShark-3T-BK
Size:
W 7″ x D 12″ x H 8.5″
(17.8 x 30.5 x 21.6 cm)Weight:
8 lbs (3.6 kg)
Size:
W 10 1/2″ x D 15″ x H 11 1/2″
(26.7 x 38.1 x 29.2 cm)Weight:
9 lbs (4 kg)
Size:
W 16″ x D 13″ x H 12″
(40.6 x 33 x 30.5 cm)Weight:
11 lbs (5 kg)
7
SDShark-7T-BK
Size:
W 7″ x D 12″ x H 8.5″
(17.8 x 30.5 x 21.6 cm)Weight:
9 lbs (4 kg)
Size:
W 10 1/2″ x D 15″ x H 11 1/2″
(26.7 x 38.1 x 29.2 cm)Weight:
10 lbs (4.5 kg)
Size:
W 16″ x D 13″ x H 12″
(40.6 x 33 x 30.5 cm)Weight:
12 lbs (5.4 kg)
11
SDShark-11T-BK
Size:
W 7.5″ x D 13.5″ x H 12″
(19.1 x 34.3 x 30.5 cm)Weight:
12 lbs (5.4 kg)
Size:
W 12″ x D 17″ x H 17″
(30.5 x 43.2 x 43.2 cm)Weight:
13 lbs (5.9 kg)
Size:
W 19″ x D 19″ x H 15″
(48.3 x 48.3 x 38.1 cm)Weight:
15 lbs (6.8 kg)
15
SDShark-15T-BK
Size:
W 8″ x D 20″ x H 12″
(20.3 x 50.8 x 30.5 cm)Weight:
13 lbs (5.4 kg)
Size:
W 12″xD 17″xH 17″
(30.5×43.2×43.2cm)Weight:
14 lbs (6.4 kg)
Size:
W 19″ x D 19″ x H 15″
(48.3 x 48.3 x 38.1 cm)Weight:
17 lbs (7.7 kg)
23
SDShark-23T-BK
Size:
W 7.5″ x D 21″ x H 15″
(19 x 53 x 38 cm)Weight:
15.8 lbs (7.17 kg)
Size:
W 12″ x D 25″ x H 20″
(30.5 x 63.5 x 51 cm)Weight:
21.8 lbs (9.89 kg)
Size:
W 16″ x D 29″ x H 23″
(41 x 73.4 x 58.2 cm)Weight:
27.8 lbs (12.6 kg)
31
SDShark-31T-BK
Size:
W 7.5″ x D 21″ x H 18.5″
(19 x 53 x 46.8 cm)Weight:
18.9 lbs (8.57 kg)
Size:
W 12″xD 25″xH 24″
(30.5×63.5x61cm)Weight:
25.4 lbs (11.5 kg)
Size:
W 16″ x D 29″ x H 27″
(41 x 73.4 x 68.3 cm)Weight:
32.9 lbs (14.9 kg)
39
SDShark-39T-BK
Size:
W 7.5″ x D 21″ x H 22″
(19 x 53 x 55.6 cm)Weight:
12 lbs (5.4 kg)
Size:
W 12″ x D 25″ x H 27″
(30.5 x 63.5 x 69 cm)Weight:
30.5 lbs (13.8 kg)
Size:
W 16″ x D 29″ x H 30″
(41 x 73.4 x 76 cm)Weight:
38.5 lbs (17.5 kg)
47
SDShark-47T-BK
Size:
W 7.5″ x D 21″ x H 26″
(19 x 53 x 55.6 cm)Weight:
26.1 lbs (11.8 kg)
Size:
W 12″xD 25″xH 27″
(30.5×63.5x69cm)Weight:
32.1 lbs (14.6 kg)
Size:
W 16″ x D 29″ x H 30″
(41 x 73.4 x 76 cm)Weight:
40.1 lbs (18.2 kg)
55
SDShark-55T-BK
Size:
W 7.5″ x D 21″ x H 30″
(19 x 53 x 76.2 cm)Weight:
29.7 lbs (13.5 kg)
Size:
W 12″ x D 26″ x H 35″
(30.4 x 66 x 89 cm)Weight:
45.2 lbs (20.5 kg)
Size:
W 16″ x D 29″ x H 38″
(40.6 x 73.4 x 96.5 cm)Weight:
48.2 lbs (21.9 kg)
63
SDShark-63T-BK
Size:
W 7.5″ x D 21″ x H 33″
(19 x 53 x 83.9 cm)Weight:
32.8 lbs (14.9 kg)
Size:
W 12″xD 26″xH 38″
(30.4 x 66 x 96.6cm)Weight:
49.8 lbs (22.6 kg)
Size:
W 16″ x D 29″ x H 41″
(40.6 x 73.4 x 104 cm)Weight:
52.8 lbs (24 kg)